Knights of Columbus founded by Fr. Michael McGivney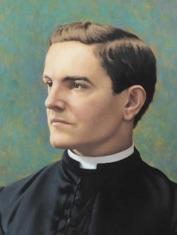 The Knights of Columbus is a Catholic men's fraternal society that was formed to render financial aid to members and their families. Social and intellectual fellowship is promoted among members and their families through educational, charitable, religious, social welfare, war relief and public relief works.

The Knights of Columbus was founded by Father Michael J. McGivney, assistant pastor of St. Mary's Church in New Haven CT. The Order was officially chartered on March 29, 1882. The K of C is still true to its founding principles of charity, unity and fraternity. The Order has helped families obtain economic security and stability through its life insurance, annuity and long-term care programs, and has contributed time and energy worldwide to service in communities.

The Knights of Columbus has grown from several members in one council to more than 12,000 councils and 1.6 million members throughout the United States, Canada, the Philippines, Mexico, the Dominican Republic, Puerto Rico, Panama, the Bahamas, the Virgin Islands, Guatemala, Guam, Saipan, Poland, Korea, and France.
Fr. Michael McGivney's is in fact the Venerable Fr. Michael McGivney, meaning there has been merit in his words and deed that it has been deemed that there is a cause for sainthood. Read morehere.
Our Council named for Fr. Byron O'Hanlon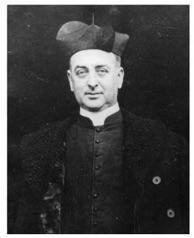 The Father O'Hanlon Council (#4768) was chartered in State College in 1958. The Council is named in honor of Father Byron Aloysius O'Hanlon, a Benedictine priest, and the first pastor assigned to State College and the Penn State community in 1908.

The State College Knights of Columbus Council 4678 serves both Catholic Churches in the State College Area, Our Lady of Victory and the Church of the Good Shepherd, and supports Our Lady of Victory Catholic School and St Joseph's Catholic Academy High School.

The Father O'Hanlon State College Knights of Columbus Council supports many local charities and dedicates many hours to community service throughout the region. Visit the Service pages for more information.